Did you know that there are health benefits to learning a foreign language?
Did you know that there are health benefits to learning a foreign language?
by Debbie Potts
8 September 2020
A few years ago, summer 2018 to be exact, I experienced one of the best summers of my life! I spent 3 weeks at an extra-intensive Swedish language course run by Stockholm's Folkuniversitetet.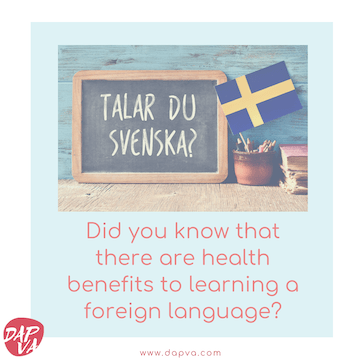 I had the most fun ever, even though at first I had been quite nervous about starting daily classes in a language that isn't really spoken outside of Sweden. To top things off, that year was probably one of the hottest summers in Stockholm +36°C during most days. Anyway, with my books, pencil case and satchel strapped to my little red brompton bicycle, I cycled the 20 minutes every day to and from Kungstensgatan.
I can't begin to tell you how challenging but utterly enjoyable each daily session was. Not to mention all the great people I met, some of whom have become such good friends!
When I returned to London that autumn, I decided that I had to continue with my lessons, so I enrolled in weekly evening Swedish classes at Westminster university to continue where I had left off, meeting another fabulous bunch of language learners! During the pandemic, we've had to adapt and our classes are now online, still loads of fun.
While I was looking for tips to improve my language learning, I came across this really interesting article on 9 health benefits of learning a foreign language by Ollie Richards I thought would be good to share. I know that learning a foreign language helps to delay the onset of dementia and keeps your brain healthy but I had no idea about some of the other benefits.